Sit Down Jobs For Disabled : Top 7 in 2023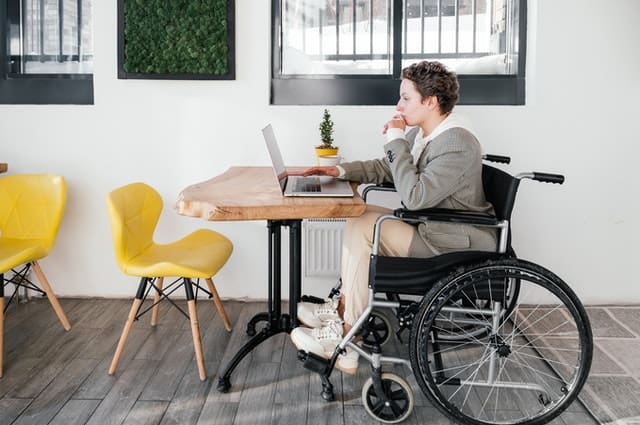 According to a report in CDC's, one in 4 U.S. adults (61 million) Americans have a disability that impacts major life activities. There are different forms of disability and we all know that it can bring about various challenges in life.
Here at MyDisabilityJobs we believe that finding a job should not be challenging, and we are determined to help people with a disability find suitable jobs and career paths.
Employers and company cultures are becoming more inclusive. However, you need to make sure that you find a job that fits with your needs and set of skills. In this article we have listed a wide selection of sit down jobs which provide great opportunities and career prospects.
If you ask yourself "how to find sit-down jobs near me" you also might consider looking into our list of work-from-home disability jobs where we show you some of the best options to work from home as a person with a disability.
Looking for a sit-down job as a disabled person? We invite you to have a look at our list, follow this link: jobs for people with disabilities to find and apply for disabled friendly jobs that might interest you.
Sitdown job opportunities and career paths for the disabled
If you are looking for even more job options, we recommend you also have a look at the list of easy jobs for disabled adults which includes many sitting jobs.
1. Accounting & Finance
A job in the accounting and finance industry is a sitdown job which gives you good career prospects. An Accountant helps businesses in making critical financial decisions by collecting, monitoring, and balancing out the company's finances.
Accounting is a broad term that includes several roles within companies and organizations. The three main types of accountants are public accountants, management accountants, and government accountants. Your role and duties will vary depending on which type of company you join, and which position you're hired for.
You can start off with a small company, or start immediately with a big international company. It depends on your qualifications and personal preferences. If you are good at working with numbers and balance sheets, working as an accountant is a good option for you. You can also progress to an account manager, finance manager or an auditor as you gain more experience.
Here's a list of sitdown jobs which you can find in the accounting and finance sector:
Accountant
Accountant Manager
Finance Manager
Financial Analyst
Tax Manager
2. Administrative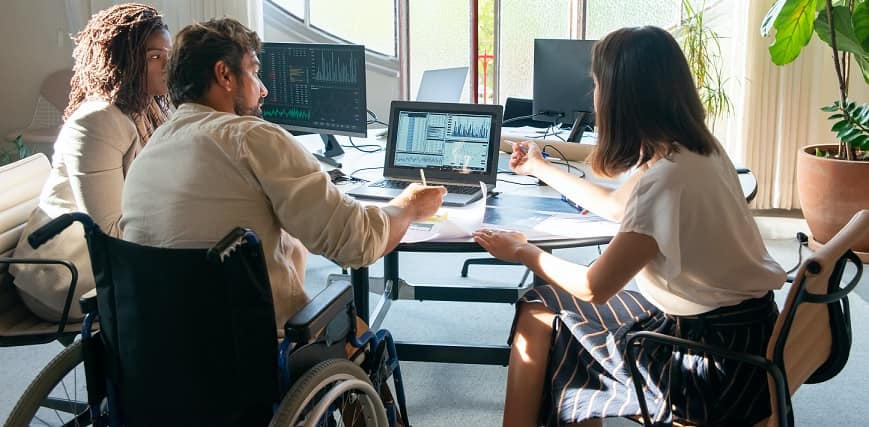 Administrative work is required in different industries and sectors which gives you a wide selection of options to choose from. All admin work is done sitting down which makes it an ideal sitdown job for disabled people.
Tasks vary depending on what kind of company you are working at, but mostly it involves answering phones, greeting visitors, buying office supplies, managing calendars, sending emails and business correspondence.
Here's a list of different types of admin sitdown jobs you can find:
Administrative Assistant
Administrative Coordinator
Assistant Manager
Data Entry
Escrow Assistant
Office Clerk
Office Manager
3. Computer & Internet
Technology and the internet have been revolutionary in our society. Both have facilitated our lives in many ways. Working with computers and job positions which revolve around the internet are always in high demand. Technology continues to evolve and the digital world continues to grow and expand.
Job opportunities and career paths in the internet sector and in the computer world are mostly sitdown jobs which makes them suitable for disabled people. Whether you're a geek who likes to be 24/7 on the computer coding, or whether you have creative skills, you can find a job on the internet and also work remotely. Most jobs are now offered remotely post-pandemic which makes it even more flexible and comfortable for you.
Cybersecurity is one of the most popular positions in the industry right now. Experts predict that there could be around 3.5 million job positions in demand in the next couple of years. So it might be a good idea to get into this role.
Sitdown jobs on the computer & internet include:
Web Developer
Computer Programmer
Software Engineer
IT Admin & Support
UI Designer
Systems Administrator
4. Customer Service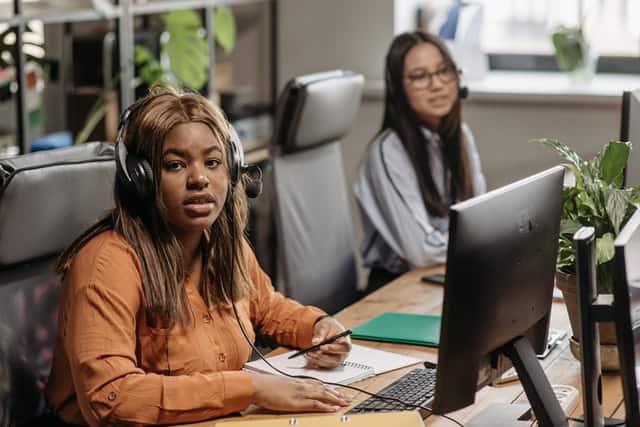 Most of the customer service related jobs are sitdown jobs. If you have great communication skills and enjoy working with people, working in customer service can be quite rewarding.
Just like any other job it comes with its challenges as working with people requires you to be patient and calm especially when dealing with difficult customers.
However, if you enjoy being in service of others, there are several interesting customer service jobs which you might enjoy doing. Tasks usually include: taking phone calls, responding to chats and emails, resolving queries and complaints, and assisting customers in their needs on a product or service. Working in customer service provides you with an opportunity for growth and progression as you progress to Customer Service Manager or Team Leader.
Here are a few customer service related sitdown jobs which you can apply for:
Customer Service Agent
Customer Service Manager
Customer Service Executive
Sales Rep
5. Human Resources
If you have good people management skills, working in Human Resources is a good fit for you. The Human Resources department acts as a bridge between the company and the employees.
Tasks and duties usually involve recruiting candidates, process payroll, conduct disciplinary measures, implementing policies, maintain employee records and support employees.
The main purpose of HR is to improve the productivity of a company by optimizing the effectiveness and performance of its employees. You can start as an HR Assistant and progress to an HR manager or Recruiter. You need to have excellent communication skills and a high level of empathy which makes you more successful at your job as you would need to connect with people.
Take a look at HR positions which you can apply for:
HR Generalist
HR Assistant
HR Manager
HR Specialist
Recruiter
6. Insurance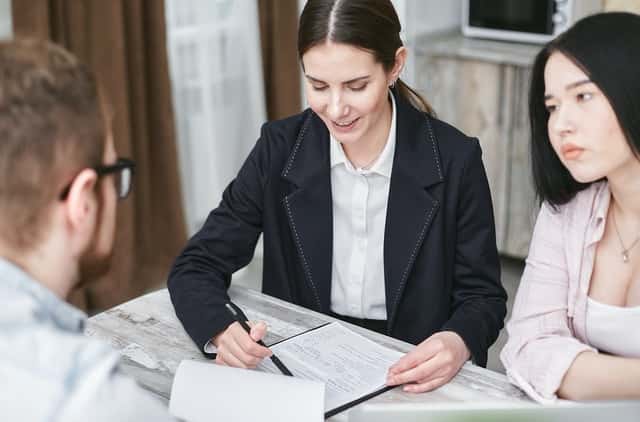 A popular sitdown job suitable for disabled people with good career prospects is working in insurance. Working with an insurance company, you'll gain exposure to different businesses such as digital, strategy, data and analytics, underwriting and claims.
Most companies have great company culture and have a flexible and more relaxed approach. Your tasks would vary depending on what kind of insurance company you are working with and what kind of policies it offers.
Most often insurance companies continue to invest in their employees, so it's a space where you can utilize your skills, while continuing to learn. Some insurance companies also offer the opportunity to earn advanced degrees, professional designations and specialty certifications which makes you a more valuable and knowledgeable employee.
These are the main types of insurances with different risks, types and hazards:
Life Insurance or Personal Insurance
Property Insurance
Marine Insurance
Fire Insurance
Liability Insurance
Guarantee Insurance
7. Marketing & PR
The marketing industry is huge and there are plenty of sitdown jobs and career paths which you can choose from. The number of jobs in the marketing field continues to increase over time.
You can choose to work for a big company which gives you an opportunity to work your way up the career ladder. Marketing positions usually start from working as an assistant to executive, and you can go all the way up to a marketing director.
The roles are quite similar but of course you can expect to have more responsibility as you progress in your role. You will mainly be responsible for overseeing and executing marketing campaigns for a company, product or service. It's important to have good planning skills and marketing strategies.
On the other hand, if you decide to work for an agency and focus on PR, you can expect to go into more specific roles. Agencies seem to prefer hiring and training experts in specific subjects rather than know-it-all people. Working in an agency, you will be surrounded by like-minded marketers where you can work together as a team with the same motive.
These are a few marketing sitdown jobs which you might find interesting:
Brand Manager
Product Manager
Digital Manager
Social media Manager
Marketing Manager
Copywriter
Marketing Researcher
Final thoughts on sitdown jobs for disabled people
As you can see, if you're disabled and looking for a sit-down job, the opportunities available are huge. These are only just a few of the most accommodating sit-down jobs available. There are plenty of other jobs and career paths which you can go for which you can find to be rewarding.
The most important things to consider are your skills, qualifications and what you're passionate about. In today's world, with most of the jobs being remote, it's also easier to find sitdown jobs which make it easier for you to work from the comfort of your own home. We hope that this article will help you be more open to new possibilities.
Our aim is to provide you with guidance and job opportunities where you can utilize your skills and support yourself financially. We invite you to take a look at our job platform and discover job opportunities which you might find interesting.
FAQ
What jobs involve sitting down?
There are plenty of sitdown jobs available for disabled people. To name a few:
1. Accountant
2. IT Support
3. Customer Support
4. Administrative
5. Human Resources
6. Marketing & PR
7. Insurance
8. Web Developer
9. Graphic Design
10. Cybersecurity
What is a good job for a disabled person?
It all depends on the kind of disability you have. If you have a disability which affects your mobility, a sit-down job would be ideal. Careers in management, marketing, insurance, technology, and HR all offer opportunities which you can do from sitting down. They are also rewarding jobs where you can progress to higher positions in your career path.
We are sorry that this post was not useful for you!
Let us improve this post!
Tell us how we can improve this post?