Inclusive Workplace Practices: 9 Tips & Advices to Implement
Year after year, the world is becoming more advanced and people are interacting more than ever before with each other. Communication is being bridged more and more and this has even extended to the workplace.
Now it'd be odd and unruly that a company would state they're not hiring certain types of people based on religion, gender, or nationality when the job doesn't require such practice. Not that it still isn't happening, but it has become less of an imposing problem thanks to inclusive employment awareness.
Inclusive practices are very beneficial to an organization because of the opportunities that come with them.
According to a survey by PwC, we discovered:
There is an increasing demand by investors, customers as well as employees from the company they do business with to portray values of inclusive behavior.
And we also discover that organizations are heavily investing in D&I programs, with 75% of them claiming it is a top priority and valuable.
Another benefit of inclusion practices in the workplace is that it helps in bringing solutions faster to problems in the workplace. In fact, there are plenty of benefits from hiring people with disabilities.
The Harvard Business review speaks concerning cognitive diversity and how employing a diverse team, in other words, a team of people with different problem-solving and mental processing abilities, can bring about swift solutions and more productivity.
It was discovered after the AEM cube test for cognitive diversity level that was undergone by six teams showed a major correlation between high cognitive diversity and high performance.
Is your company offering inclusive jobs for people with disabilities? As an employer, you can publish your job offers on MyDisabilityJobs and reach thousands of qualified candidates.
9 Inclusive Workplace Practices You Can Implement
There are so many ways you can ensure your workplace is functioning in an inclusive capacity.
It all depends on what you need to do and how you need to do it. As a manager, head of a department, or CEO, it is necessary that you put in substantial effort in making sure that your employees or workers placed under you are having no issues expressing themselves and being given a chance to perform at their optimum while at work.
So in this section, we'll be discussing inclusion practices in the workplace that you can implement to achieve the inclusive workplace that you aim for.
1. Give Everyone a sense of belonging
For people to bring forth their best selves, a sense of belonging must be prioritized.
Being connected to people that make you feel wanted and be yourself does not just bring in greater creativity and engagement but also fosters unity.
Although it does not just happen overnight, dedication to it will bring in the needed results in due time.
2. Encourage joy and connection while limiting fear
When people's beliefs get challenged, they may react with fear and distrust. Even though fear is a powerful motivator, it can also cause one to limit their perspective and that is not needed in the achievement of an inclusive environment.
Moments should be created that encourage the practice such as allowing people to speak without interruption during meetings, especially by fellow workers. And also giving gentle remarks at contributions of employees during meetings passes a message of inclusion instead of harsh or sarcastic remarks.
You could also organize an end-of-the-month or year hangout or dinner with nice activities that allow people to connect.
3. Teach others what inclusivity means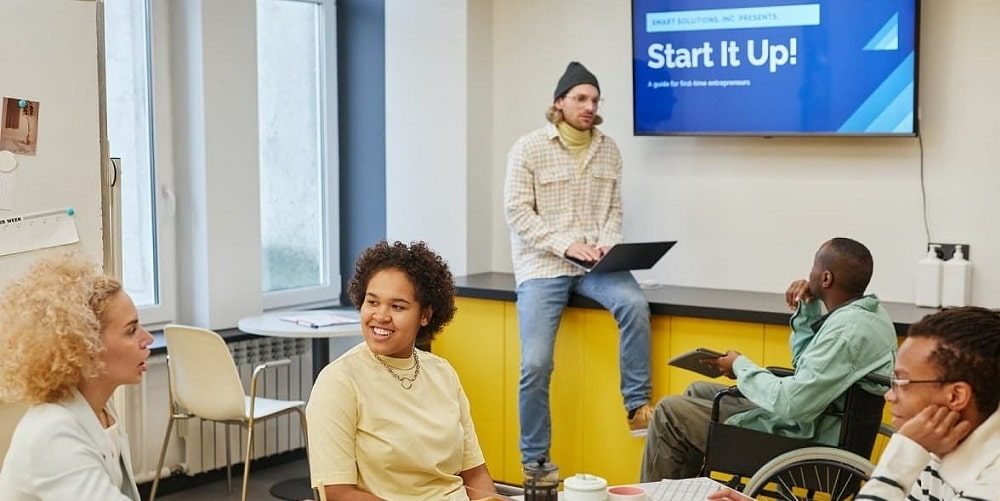 Some employees may not be familiar with the proper meaning of inclusivity and may not be sure of how to practice it at work.
Therefore you're to educate your team members on what inclusivity is all about and discuss ways together on how you all can make it happen. The human resource team should try to set up training and programs to educate the members of the organization more on inclusivity.
To make a discussion easier you might want to make use of diversity and inclusion topics for discussion.
4. Set goals for your team
It is advisable to set goals from time to time on inclusivity among your employees or workers.
This will enable them to be actively involved in developing inclusive behaviors. Let each person commit to doing one or two things that will indicate inclusive behavior, either for the month or for the year, and be held accountable for it.
Take care not to do this by putting them under pressure, let them decide what they can offer and how they can keep to it but it should be monitored.
5. Think together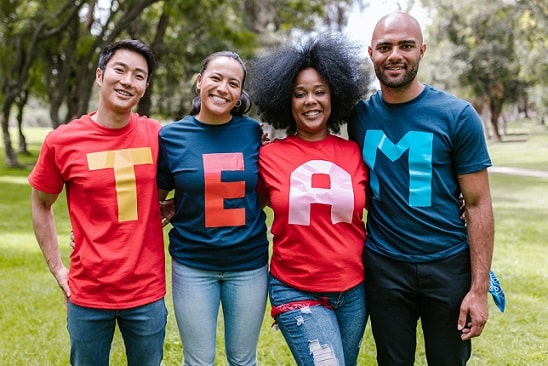 Collaborate with your team to brainstorm goals you'd like to work toward to build an inclusive and accepting work environment for all employees.
You can build these goals within your department or meet with your human resources team to establish company-wide inclusivity goals. Work with them to conduct employee surveys asking employees how inclusive they feel their work environment is currently and ways you can improve.
From there, you can build goals for you and other team members to work toward that ensure a more collaborative and inclusive environment. Establish and communicate clear and measurable goals to help create a more diverse and inclusive workplace. You and other employees can set goals to work toward to make everyone feel heard, appreciated, and welcomed.
6. Understand your employees through research.
You can conduct surveys on your employees to get data from them.
Data that you would use to help improve the working condition of the place. It could be data about the dominant age group, ethnicity, personal behavior towards certain issues, etc.
You can use this data to guide how your employment later as well as your hiring advert would sound like, have a general overview on the kind of workplace you're running as the head and what to improve on.
Ensure to make them understand that it's purely for research and keep their data confidential. This is a good inclusive employment practice to implement.
7. Inclusion is progressive
It isn't enough to educate employees on what it means to be inclusive.
Inclusive behaviors in the workplace requires individuals to identify essential moments in which to cultivate new habits or what is known as "micro behaviors" (actions that can be practiced daily and quantified).
When these habits are now put into action in an environment where honest conversations and engagement are supported, real change then becomes possible.
One of the ways to get this done is by identifying change cohorts within the organization apart from the executive or management level.
You then go ahead to equip them with the necessary skills and info to help them spearhead change within their little groups, teams, and so on. This is very effective especially when it accompanies a training session. That way individual employees are reached in a large workplace.
8. Epress your appreciation for members
A more positive and encouraging atmosphere, if you put in work and effort to make others feel accepted and highly esteemed, can be created.
Whenever your team member helps you solve an issue, or collaborates closely with you on a project that went pretty well, be sure to give your appreciation and thankfulness for their assistance. Simple words like, "Thank you so much for taking your time to find those previous budget reports, I really appreciate it." will go a long way.
This practice helps employees feel more valued and encouraged to be of assistance to one another on other collaborative efforts. When team members see you giving off this energy, they'll feel encouraged to do the same, building a more positive, collaborative atmosphere.
9. Celebrate with your workers.
When your employees are going through such important times in their lives such as a wedding, birthday, or maybe even a promotion, it's a wonderful opportunity to step in and celebrate with them at such times.
You see they cherish these moments dearly, showing up at times like this gives them a warm feeling of acceptance and they won't hesitate to become more receptive at work.
It's a sign of friendship and a message that you're an ally. Therefore they'd be inclined to work better.
Even in times of grief, extend a hand of sympathy and a shoulder of support. This can be done by sending surprise gifts from the organization, a personal appearance, or a call. Either way, the message is passed. This is one of inclusion best practices.
Is your company offering inclusive jobs for people with disabilities? As an employer, you can publish your job offers on MyDisabilityJobs and reach thousands of qualified candidates.
Conclusion
An inclusive workplace requires actions to facilitate it. It doesn't just happen because you want it to, you have to take steps. Now the efforts required can seem tremendous but never forget it's a process.
Also, be sure that you comply with governmental laws that concern this issue so that you don't walk beyond your boundaries.
FAQ
What is meant by inclusion and inclusive practices?
Inclusion is the act of encouraging and showing people that they are important and valued, creating that sense of belonging. Inclusive practices can be referred to as the steps carried out to achieve inclusiveness.
How can I make my workplace more inclusive?
You can make your workplace inclusive by first, creating awareness among your employees on getting them to understand and contribute towards the improvement.
How do you show inclusiveness at work?
You can show inclusiveness at work by asking your employees from time to time about how they feel at work and things they may like to be improved on by the management. Just make sure the person engages with you and doesn't feel unsafe.
Related articles:
Disability in the Workplace: Developing Accessibility in 10 Ways
Diversity Management: What is it and Concept
Diversity and Inclusion Topics for Discussion: 9 Talking Points
Managing Diversity in the Workplace: 10 Strategies
Inclusive Behaviors in The Workplace | 15 Ways to Promote it
Fostering Inclusion : Work Environment | 12 Ways to do it
Benefits of diversity and inclusion in the workplace
DEI Training & Topics: What is it & Implementing Strategies
We are sorry that this post was not useful for you!
Let us improve this post!
Tell us how we can improve this post?