Inclusive Behaviors in The Workplace | 15 Ways to Promote it
Inclusive behavior is the character of having an atmosphere of acceptance, value, and respect for other individuals to be a part of, for the sake of growth, community, and productivity.
We can also describe it as the act of supporting and encouraging people around us so they do not feel left out.
Bringing it to the workplace, we can say inclusive behavior is the creation of an ideal environment for motivation, acceptance, and value to achieve improved working conditions between employers and employees. In fact, there are many benefits to hiring people with disabilities.
Is your company offering inclusive jobs for people with disabilities? As an employer, you can publish your job offers on MyDisabilityJobs and reach thousands of qualified candidates.
Why Inclusive Behaviors are Important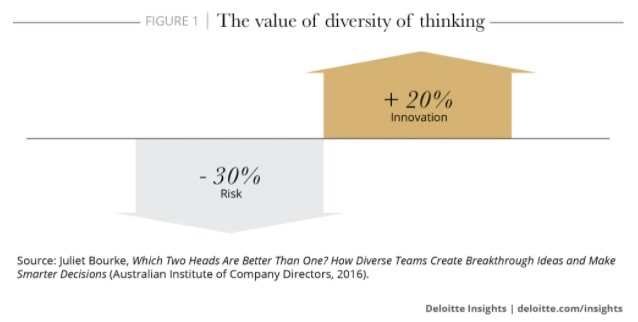 It is not news that a working environment where there is a healthy measure of liberty and acceptance allows for developmental progress in the overall performance of the organization.
The more people feel connected to a place, the surer the sign of inclusiveness is present.
From a survey of over 245 global organizations, as well as over 60 client interviews, it was discovered that organizations that adopt inclusive cultures are six times more likely to be innovative, anticipate productive change, and respond accordingly. And twice are they predicted to meet and exceed financial targets.

It is interesting to note that in the new four-level maturity model, only about 12 percent of organizations have attained full maturity.
According to Stacia Sherman Garr, who happens to be the workforce and talent leader of Bersin by Deloitte, Deloitte Consulting LLP mentioned how inclusive practice brought about predictable and sustainable business outcomes.
And based on their two-year research work, a conclusion was drawn that business outcomes just like this are possible for any company as long as they'd be willing to adopt the inclusive talent practice.
The research also encourages CEOs and businessmen to own the inclusive strategy and make full use of its advantages.
Inclusive organizations 85% of the time outperform their peers and taking a close look, you'd discover that they make use of this strategy in almost all decisions taken by the management. This may be the reason the research by the "2017 Deloitte Global Human Capital Trends" shows that up to 78 percent of respondents believe majorly that diversity and inclusion is a competitive advantage.
Inclusive behavior at the workplace helps to smoothen the relationship between colleagues, employers, and employees. In an environment full of repression, it would be difficult to communicate appropriately, usually with the head of the company or colleagues.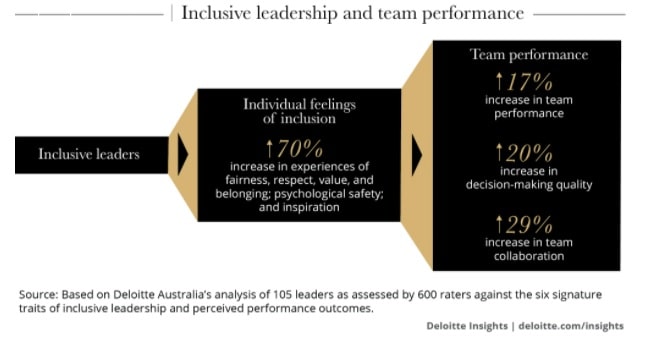 Having inclusive behavior will help identify each other's strengths and work towards producing profitable returns for the whole organization.
It may not be easy if you're just learning this and want to apply it for the first time. But after some time the behavior would sink in leaving you with a stress-free workplace. Some inclusive behavior examples are friendliness, good listening skills, immediate response to individual emergencies, etc.
Inclusive culture allows people to feel liberty, share and solve problems, innovate and actualize change.
15 Inclusive Behaviors to Have at your Workplace
There are so many ways to create an inclusive atmosphere at your workplace. All you have to do is to be willing to make the change and set your mind to it. Also, watch out for opportunities where you can display these behaviors.
Below are 15 examples of inclusive behaviors in the workplace:
Endeavor to appreciate and respect people's cultural values and backgrounds. This also involves tolerance as differences in cultural backgrounds may pose a barrier in value appreciation but that mustn't stop you.
From time to time, organize activities outside of work that workers can participate in and get to know each other better.
Consider making healthy provisions for the needs and individual issues when organizing celebrations and activities involving team building.
Encourage people to voice their concerns over business matters especially if you're the leader. Show them that they're not just tools for profit but rather, that there's a team effort going on.
Don't be quick to draw up conclusions on people working differently, perhaps slowly as uncommitted. Take your time to understand their method, they may be doing smarter work than others.
Let your greetings be authentic. A gentle smile and a less commanding voice first thing in the morning calm the nerves of the workers.
Do not encourage backbiting in your workplace. Ensure that you stand against colleagues slandering themselves to you as the boss to gain your attention. Be quick to identify this and cut it short sternly.
As an employee, invest in making your job thrive. Communicate with your boss about necessary ideas for improvement, show you care for the business as well.
Review existing policies that may be potentially non-inclusive in nature.
When tragedy befalls anyone in the workplace such as an accident or death of a loved one, rally the others and organize something special for that person within your capacity. Maybe a special visit with gifts or a vacation trip.
Show your massive encouragement for the little wins of your workers in the case of a marriage, childbirth, or promotion in any way you and the staff can think of.
Appreciate people with a different perspective from yours, especially when you cannot deny the usefulness of their opinions.
Do not treat and allow disabled staff (if any) to be treated less by colleagues. You must always give behavioral accessibility a stand in your workplace.
Make sure security systems are set up appropriately to ensure the welfare of yourself and your staff. Do not be careless with that, it sends the wrong message.
Seek professional help from institutions that specialize in training for organizational inclusive behaviors. They usually can help with tricky situations especially when it involves sensitive issues such as religion or ethnicity, and even sexuality.
Is your company offering inclusive jobs for people with disabilities? As an employer, you can publish your job offers on MyDisabilityJobs and reach thousands of qualified candidates.
Diversity and Inclusion: Rules Evolution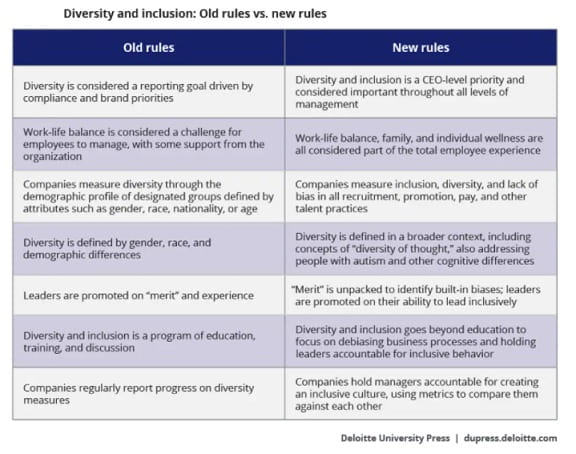 As much as these things seem relatively easy and nice and normal, you'd never expect it when you find yourself face to face with the truth that you're not probably doing what you're supposed to do.
Take it one step at a time, these behaviors and their benefits do not happen overnight. Look at the nearest issue at hand and see how you can introduce some behaviors that may promote equality and inclusion into it to turn it around.
FAQ
What is Inclusive Behavior?
Inclusive Behavior is the act of fostering a friendly environment of value, care, and community for people around to feel accepted, loved, and vital. It is also defined as creating improved living conditions, especially in terms of character for one's self as well as other people around irrespective of gender, caste, sexuality, age, color, and any other division that exists amongst people.
What is an example of Inclusiveness in the workplace?
An example of inclusive behavior in the workplace can be setting up convenient facilities for disabled staff to help him/her work better or even organizing informal meetings where everyone can freely share ideas, concerns and get to know more of themselves. There are so many ways of showing your acceptance of people in your workplace. It could even be giving a colleague a ride home after work with no strings attached.
How do you demonstrate inclusion in the workplace?
Inclusive behavior varies in the demonstration from one workplace to another. Some places may show their inclusiveness by being sexually accepting while others may just have the simple culture of hosting the staff to a get-together once every six months. Both are inclusive behaviors but you must know what works best for your work environment per time and not spread yourself thin.
Related articles:
Diversity Recruiting Strategies and How to Recruit Diverse Candidates
Disability in the Workplace: Developing Accessibility in 10 Ways
Diversity Management: What is it and Concept
Challenges of Diversity in the Workplace & How to Overcome Them
Diversity and Inclusion Topics for Discussion: 9 Talking Points
Managing Diversity in the Workplace: 10 Strategies
Inclusive Behaviors in The Workplace | 15 Ways to Promote it
Fostering Inclusion : Work Environment | 12 Ways to do it
Inclusive Workplaces Practices
Benefits of diversity and inclusion in the workplace
DEI Training & Topics: What is it & Implementing Strategies
We are sorry that this post was not useful for you!
Let us improve this post!
Tell us how we can improve this post?