Work from Home with a Disability – 10 Best Remote Jobs in 2023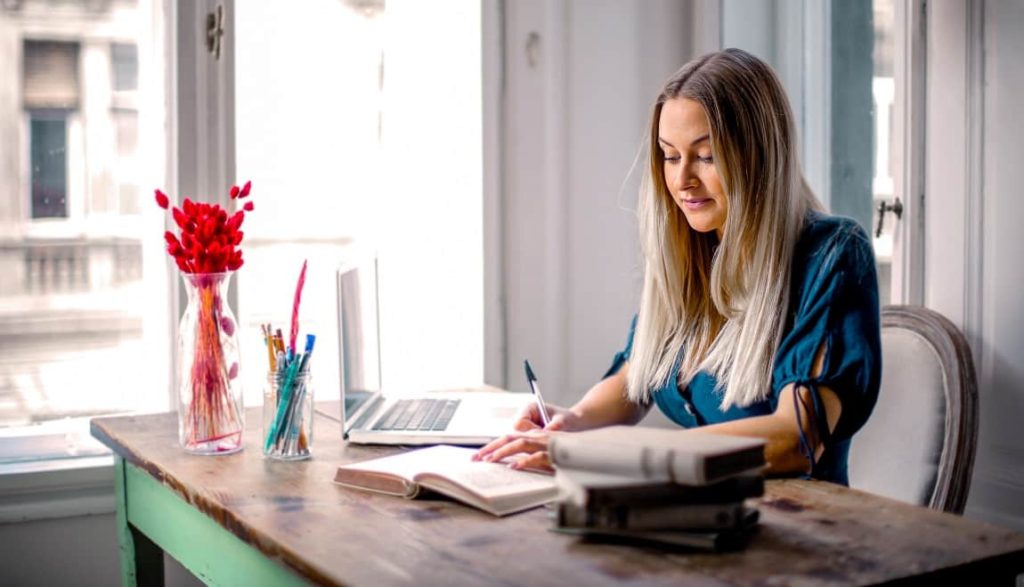 Remote jobs among the disabled have become increasingly popular, especially following the pandemic breakout in 2020 across the globe. Thanks to advanced technology and the internet revolution, there are plenty of online jobs that give you the facility to work at home.
Research suggests that 25% of all professional jobs in North America will be online by the end of this year, December 2023. This trend makes it easier for everyone to find an online job. So, if you are looking to work from home as a disabled person, you've come to the right place.
Looking for work-from-home jobs for disabled adults? We invite you to have a look at our jobs for people with disabilities to find and apply for disabled friendly jobs that might interest you.
In this article we have listed the top 10 online and remote jobs for disabled people:
1. Freelancing
Working as a freelancer is one of the best ways to make a living from the comfort of your own home. It gives you flexibility with your schedule and your projects might involve working with different companies.
To work as a freelancer, you need to have a particular skill or service which you can offer. There are plenty of services that you could offer online, it all boils down to your skills and area of expertise.
For example, if you're a creative graphic designer, you can work with brands to create logos and promotional material. Or, if you have great writing skills, you can work as a content writer for different platforms and blog sites.
The world of freelancing is bigger than you can imagine. So do a brainstorming session and see what you can come up with. Don't underestimate yourself and your potential.
There are plenty of work-at-home jobs available even if you have a physical or any other disability. So don't let this limit you. If you're interested in a particular area and you would like to improve your skills, there are several affordable online platforms with great online courses.
When you are ready, you can start by creating a profile on online platforms (such as Upwork, Fiverr and many more) where you explain your skills and your services, and you can browse through our remote job section for potential online job opportunities.
Having a successful career as a freelancer requires time and energy, but it is definitely worth the effort. It also gives you a lot of flexibility which is why it's also one of the best options when it comes to part-time jobs for disabled person.
This option is also one of the best when it comes to jobs for people in wheelchairs since you can decide where you can work from and usually involve working from your laptop.
2. Virtual Assistant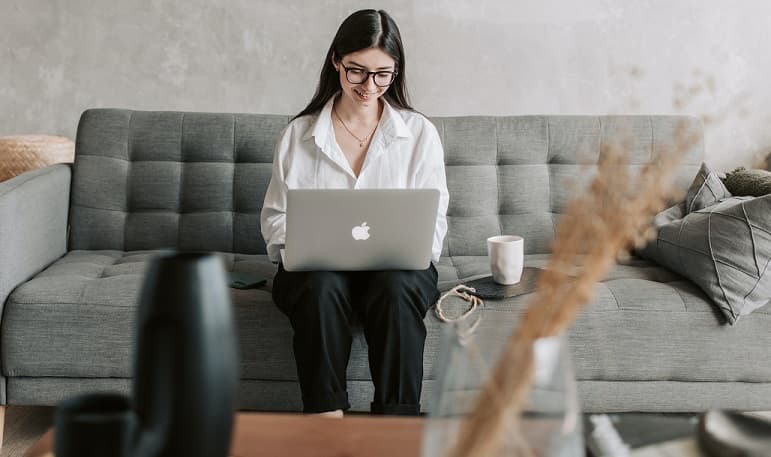 Also listed as an easy job for disabled adults, a virtual assistant is very similar to the role of a personal assistant which can be quite challenging but a highly rewarding online job.
The tasks usually include managing your superior's calendar, answering emails, and providing support through administrative tasks.
Skills required for this remote job are:
organizational skills,
communication skills,
attention to detail.
This role is getting more popular as there are plenty of employers who require a virtual assistant to help them manage their business.
For example: a virtual assistant for a successful coach, you will have to manage her appointments, reply to emails, manage her blog and social media posts.
3. Social Media Manager
If you enjoy using social media platforms and know all about their features and operational functions, you can easily get a job as a social media manager.
This is one of the funniest online jobs for disabled people at home as it can serve as an opportunity to grow in your career while doing something you enjoy.
Managing social media takes time and requires skills and knowledge.
Most entrepreneurs don't have time to manage their social media accounts.
So you will be responsible for their marketing campaigns, generating traffic and scheduling posts.
This is a great opportunity to play around with your creativity and create unique posts for different social media platforms. The job is also engaging as you would be responsible to interact with the clients by replying to comments and messages.
4. Digital Marketing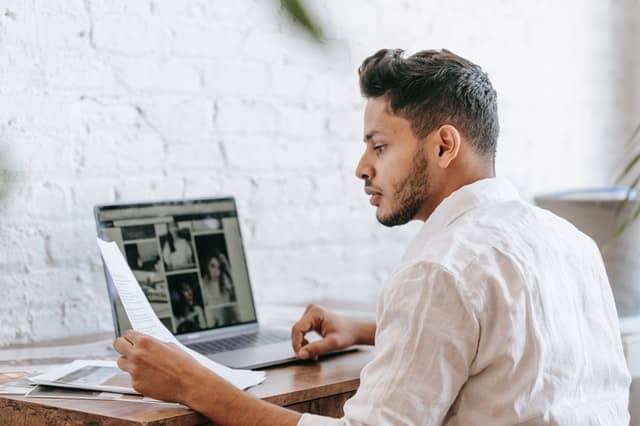 If you're interested in finding a remote job for disabled people in digital marketing, you have a wide selection of opportunities to choose from.
There's a big demand for digital marketing-related positions across several industries. And you have a lot of different careers in this field.
The different roles for work-at-home jobs require different sets of skills and qualifications. For example, you might want to work on web development and SEO, or perhaps you would like to work as a Content Strategist or Digital Marketing Manager.
The opportunities are endless. All you need to do is search for online remote jobs related to your area of expertise and prepare an excellent portfolio to present yourself as the ideal candidate for them.
5. Customer Support
Customer service jobs are quite popular online which makes them one of the best work at home job opportunities for people with a disability.
Your tasks would include responding to customer inquiries through chat, phone, and emails. Some questions which you will be required to answer will be related to the field that you're working on for example sales and services, payment instructions, how to's, FAQ's, etc.)
There are several international companies that offer remote jobs for disabled people who would like to work from home.
You would need to have:
Good organizational skills,
great communication skills,
patience,
willingness to serve clients.
These jobs are also among the best when it comes to sit down jobs for disabled since you will always only require to work from your desk.
6. Proofreader
Working as a proofreader might be the perfect job for you if you like reading long documents and reports to spot and correct mistakes.
Your grammatical skills must be exceptional so your clients can ensure that their document is perfect before they submit or publish their work.
Proofreading is required in different languages, so if you're good with languages that's a big plus for you as you have more opportunities.
You can find an online job for a disabled person as a proofreader either with an online news portal, a blog site, a book-publishing company, or you can also go look for opportunities on freelancing platforms. This is also one of the best jobs for the physically disabled at home.
7. Translator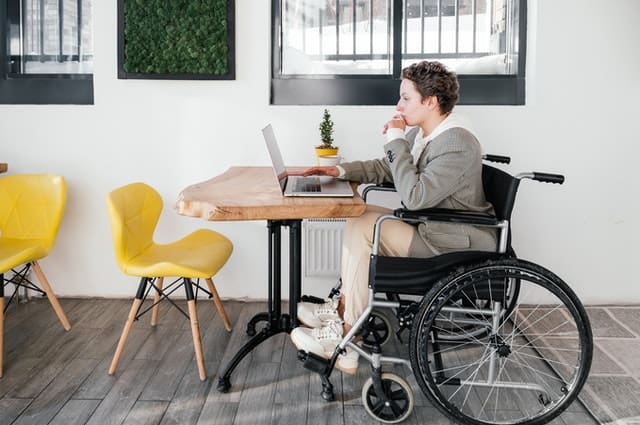 If you're good with languages, you can also work as a translator in different fields.
Your tasks would involve the translation of documents, articles, and transcriptions.
There are various translating jobs on online websites and platforms specifically dedicated to translation. You can either create an account on an online platform, or you can work with companies in several industries for example law firms, corporate companies, translating companies etc.
So if you know more than 1 language, this is one of the best option when it comes to home jobs for people with disabilities.
8. Content Writer
If you enjoy writing and have excellent writing skills, you can find many opportunities to work from home as a content writer. You can write for blogs, small businesses, or even eBooks.
You don't really need experience to work as a content writer which is a great opportunity as a remote job for disabled people. Just make sure that you have a good portfolio and some writing samples which you can present to impress your prospective clients.
9. Teach online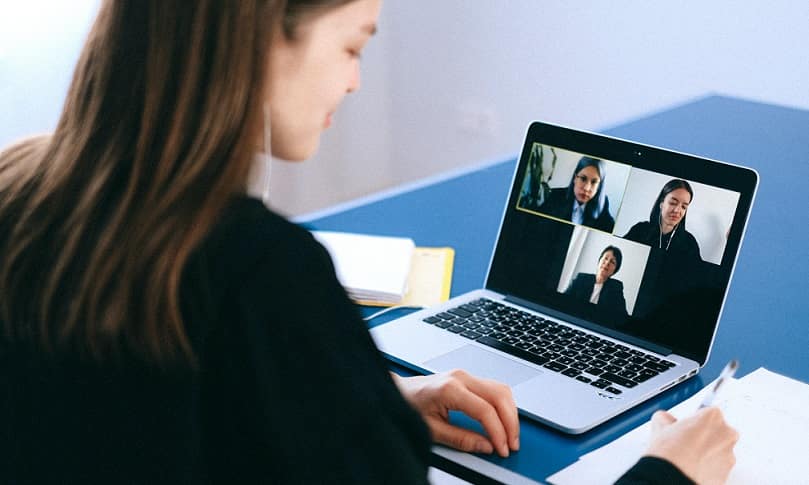 If you enjoy interacting with other people and also looking for a work-at-home job, online tutoring might be a great option for you.
If you're passionate about a subject and you would like to share your skills with others, you can set up your tutoring services.
You can also teach an academic subject or a language online. You can find specific sites for online tutoring jobs with online platforms where you can register for a teaching profile and teach students your particular subject.
10. Transcriber
Transcription jobs are one of the easiest remote jobs you can do from the comfort of your own home. You would need to listen to audio or video content and type everything on a word document.
With the increase of podcasts, this job is in high demand as many of them require transcribers to type their episodes so they can publish them on their blog sites.
If you're interested in this type of remote job for disabled people, you can contact podcasters and check whether they have openings on their website for a transcriber.
Otherwise, you can go on freelancing platforms and see whether any translation jobs are posted. Just make sure you have good typing skills as you would need them for this type of job. Note that this one might not be the best suitable job for blind people.
FAQ
How do you make money if you are disabled?
Find your strengths and working with them will enable you to create a fulfilling life. Here are some examples:
-what do you enjoy doing?
-what are your strengths?
-what services would you like to offer?
-what skills do you have or want to learn?
What kind of work can I do from home?
There are plenty of work at home jobs for people with a disability: Here are the top 10 remote jobs for disabled people:
Freelancing
Virtual Assistant
Social Media Manager
Digital Marketing
Customer Support
Proofreader
Translator
Content Writer
Teach Online
Transcriber
Which job is best for handicapped?
The best jobs for disabled people are:
Accounting
Web developer /Software engineer
Data entry
Administrative Assistant
Digital Marketing
Content Writer
Customer Support
Clerk
Librarian
Legal Assistant
We are sorry that this post was not useful for you!
Let us improve this post!
Tell us how we can improve this post?